Warranty & Support
9.4/10
Pros
Customers have said it runs very quietly.
Extremely energy efficient.
This model is covered by a 3-year warranty by Airflow.
Extracts up to 25 litres per second.
Stylish and non-intrusive design.
Cons
The instructions font is quite small.
---
Summary
The Airflow QuietAir QT100T is their second fan in their award-winning QuietAir series and is most effective in bathrooms, en-suites and toilets.
This award-winning axial fan can either be recessed or surface mounted into ceilings or walls and delivers a decent maximum flow rate of around 90 m3/h, which is roughly 25 l/s.
The team at Airflow are known for their futuristic designs (as seen with their iCON 15 fan) and they certainly did not stop here with this one. In addition, this fan comes complete with a backdraft shutter flap, an adjustable run-on timer, and can be installed in any bathroom zone – making this truly a great fan!
---
Main Features
Our Rating: 9.2/10
SFP: 0.24W/l/s
Super quiet from 25dB
3-Year Warranty
Backdraft flap
Maximum Flow Rate: 25 litres per second (90 m3/hr)
Includes delay start to avoid unnecessary usage
Multiple speed options
Adjustable overrun timer
Extremely energy efficient
Complies with latest Building Regulations
Rated to IP45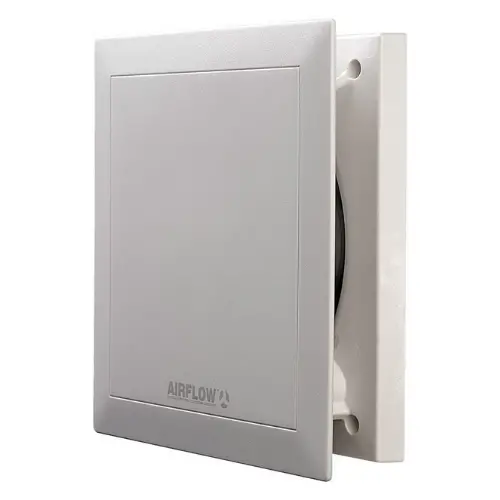 ---
Extraction Rate
The Airflow QT100T has a max extraction flow rate of 90 m3/hr, which is around 25 litres per second. This extraction rate is, therefore, more suitable for small-to-medium sized applications e.g. bathroom, toilet, en-suites etc.
This extractor fan comes with two modes, both with differing extraction rates. Below is a table detailing each mode:
---
Power Consumption
The QT100T fan, as seen in the table above, has a max consumption rate of around 9 Watts – and this is on the high mode! This extractor fan is exceedingly energy efficient with a Specific Fan Power (SFP) of just 0.24W/l/s!
In addition to its very low Wattage, the QT100T features a delayed start timer, that reduces any unnecessary activation – like short trips to the bathroom during the night,  for example. This is an excellent feature as it means even more energy efficiency.
---
Noise Level
The Airflow QT00T outputs a super-quiet sound level of just 25dB(A) on Low mode and 30dB(A) on High mode, as indicated in the table above. For an extractor fan to be considered quiet, it needs to be around 30 decibels or less – which makes this fan exceedingly quiet.
Furthermore, the QuietAir QT100 series was awarded the QuietMark by the Noise Abatement Society in 2014, truly confirming that this extractor fan is one of the quietest around!
---
Design
In addition to running very quietly, and using a low amount of energy, the QT100T also features an innovative room refresh option (essentially an interval timer) that can be configured for long-term regular ventilation. This can be configured to auto-start at 0, 8, 12, or 24 hours.
This fan comes complete with an integral flow straightener and back draught flap for maximum efficiency. The high-efficiency impeller allows the flow of up to 60m3/hr through up to 12m of rigid ducting – which includes 90-degree bends too!
The motor itself is a long-life ball-bearing motor, and Airflow claims it will last at least 40,000 hours of run time, ensuing your fan will work well for a long time.
---
Overrun Timer
As the "T" in the model number suggests, this unit features not one but three adjustable timer modules. As well as the room refresh interval timer and the delayed-start timer mentioned above, it also has a run-on timer. The run-on timer can be adjusted to 6, 10, 15 or 21 minutes.
In order to configure any of the timers; Overrun Timer, Delayed-start Timer and the Room Refresh Timer, there are DIP switches and jumpers inside the unit.
---
Humidity Sensor
The QT100T does NOT have a humidity sensor or humidistat. If this is something you need, you will have to get the Airflow QT100HT instead. This one is great because it also has a timer control option as well.
---
Warranty
This extractor fan by Airflow comes complete with a 3-year warranty. Make sure you check out their help section if you have any issues after you buy.
---
Airflow QT100T Reviews
The Airflow QT100T has been reviewed many times by verified customers that have provided genuine feedback. Click below to read the verified customer reviews in order to make an informed decision.
---
Airflow QT100T Extractor Fan Instruction Manual
You can download the Airflow QT100T Extractor Fan Instruction Manual here.
You can also download the Airflow QT100T Datasheet here.
---
What's Included in the box?
1 x QT100T Fan
1 x Instruction Manual
1 x Screws & Fixtures
---
Pros and Cons
Customers have said it runs very quietly.
Extremely energy efficient.
This model is covered by a 3-year warranty by Airflow.
Extracts up to 25 litres per second.
Stylish and non-intrusive design.
The instructions font is quite small.
---
Verdict: Should You Buy The QT100T?
If you're after a stylish, energy-efficient, award-winning, extractor fan with a decent extraction rate – you should definitely choose this fan. This fan was deemed very quiet by a team of specialist acoustic professionals at Quiet Mark, an independent global certification programme, that tests the quietest products in many different categories. If you made it this far then I imagine you think you should get this fan too! 
However, if you find you require a less powerful, you should check out our Airflow QT120T review, as well as our Airflow QT150T review.
---
Where Should I Purchase The Airflow QT100T?
---
Airflow QT100T Additional Specifications
---
Related Posts